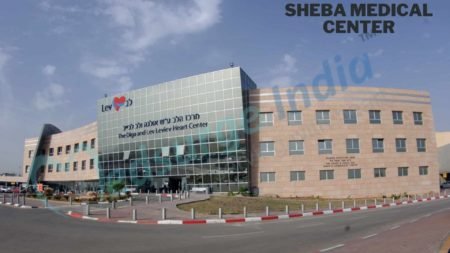 Why Sheba Medical Center is Ideal Choice for Medical Treatment in Israel ?
Nearly one million Americans traveled to other countries for medical treatment last year and Sheba Medical Center is always on the list of medical travelers. Patients from Cyprus, Eastern Europe, and the United States are opting for Israel as their destination for medical treatment. 
According to the Israeli Ministry of Health Report, approximately 30,000 patients arrived for their medical treatment in Israel in the year 2013 which was only 15,000 in 2006. The demand for medical treatment in Israel is continuously increasing which can be characterized by its rapid growth in medical innovation. 
Medical Treatment in Israel: Cost-effective, Excellent Healthcare Services
There are various reasons to travel to Israel for medical treatment. They are:
Cost: Israel offers cost-effective medical treatment as compared to other developed nations such as the US, the UK, Canada, etc. The cost of medical treatments in Israel is nearly half of those in developed countries.
Latest, Advanced Medical Treatments: The US has always been at the top in the field of medical research. However, other nations such as Israel, Turkey are now joining the states shoulder-to-shoulder on coming up with new medicinal technologies providing several options to treat patients with advanced disease. 
Well-experienced Doctors, Physicians, and Surgeons: Israeli highly-trained physicians and surgeons are well-experienced in different medical departments such as cardiology, neurology, IVF, transplantation, pain management, rehabilitation. 
Quality: You will find an appropriate balance between cost and quality in the Israeli healthcare system. Israeli physicians are equally educated and trained as of American medical specialists and in some cases, even more. There is no compromise in providing quality healthcare services to patients across the globe. 
No Language Barrier: Language is an advantage. Although Hebrew is their native language, you will find medical staff including doctors and nurses using English to communicate and interact. Also, Israeli hospitals provide language interpreters to patients coming from abroad. There is nothing to worry about how to communicate with medical staff.
Israel is currently one of the world's top leaders in the field of medical research and the development of new treatments and techniques with well-equipped hospitals and medical institutions across the country. 
Apart from satisfactory medical treatment, Israel also offers magnificent tourist attractions to explore in leisure time. Israel never fails to disappoint its guests. 
Which is the best hospital to avail medical treatment in Israel?
Israel has a total of JCI (Joint Commission International) accredited hospitals and Sheba Medical Center is one of the leading hospitals in Israel and in the world as well. In 2013, Sheba medical center was the first Israeli hospital to achieve the Joint Commission International (JCI) Gold Seal.
In March 2019, one of the top e-magazines named Newsweek magazine enlisted Sheba in their prestigious global top ten list. Since then, the center has maintained its position as one of the top 10 hospitals for three consecutive years. 
Sheba Medical Center – A Leading Force in Medical Innovation
Established in 1948, the center covers an area of the 200-acre campus in Tel Ha Shomer, near Tel Aviv, and abodes nearly 2,000 beds and 75 laboratories for tests and other diagnostic procedures.
With 8,060 medical professionals, 2,800 nurses, and 1,425 physicians, Sheba Medical Center treats approximately 430,000 inpatients and 1,600,000 outpatients annually. 
The center performs nearly 50,000 surgical procedures and 11,000 maternal deliveries on annual basis.
The center is equipped with seven major facilities including the Cancer center, medical education academic campus, medical research complex, children's hospital, acute care hospital, rehabilitation hospital, and women's hospital.
Why Sheba should be your priority for getting medical treatment
Sheba Medical Center commits to deliver its comprehensive care beyond Israel's borders. That's why people across the world choose Sheba for its quality and innovative approach to medicine and treatment.
In the past years, Sheba has been able to provide its healthcare services to distant areas in the world including Sri Lanka, Cambodia, Rwanda, Peru, and Chernobyl. 
People across the Middle East and from the countries with no diplomatic relations with Israel prefer Sheba to avail medical services.
The healthcare staff is burning the midnight oil in expanding its medical services across Eastern European and Mediterranean countries along with maintenance of agreement with the Republic of Cyprus. 
The staff offers transparent medical care services with no hidden or extra fee. 
The center follows a patient-centric approach. Patients' needs, decisions, and clinical outcomes in accordance with healthcare decisions are fully taken care of. 
What are the benefits of medical treatment at Sheba Medical Center?
Being one of the largest healthcare groups in Israel, Sheba Medical Center offers numerous benefits to its patients across the world.

Advanced Medical Treatments: Medical professionals prefer to treat their patients with the latest, advanced medical treatments. The center is fully equipped with high-tech medical solutions including the only Virtual Reality Rehabilitation Department in the world. The laboratories are equipped with exclusive diagnostic equipment for cancer and cardiac patients.
Highly-experienced Medical Personnel: The medical staff is the treasure of the center. At Sheba Medical Center, the healthcare workers ensure the medical facilities run safely without any hindrance. The center comprises skillful clinicians, qualified health experts, and doctors who are members of the Faculty of Medicine at Tel Aviv University. The surgeons and physicians coordinate to treat their patients with the finest, disciplinary care.
Understanding Patients' Needs: The staff completely understands the emotional, physical, and financial aspects of their patients. They never hesitate to offer psychological and emotional support along with comfort and educational support to the patient's families.
Efficient And Effective Services: Timely care is the main focus. Medical professionals focus on utilizing appropriate therapy and treatment to deliver the best outcomes to their patients.
Some of the personalized services offered at Sheba Medical center are:
Assisting in medical visa process and travel arrangements
A language translator in your native language to avoid the communication barrier.
Transportation services, accommodation, food availability, currency exchange, etc. 
Assistance with arranging your local medical records
Excellent Centers and Institutes at Sheba!
The Sheba Medical center focuses on providing cutting-edge treatments in different medical departments and accepts patients across the globe. Let's learn how the center differs in treating their patients in different departments.
The Cancer Centre: 
The center has well-experienced oncologists with decades of experience who hold expertise in treating different types of cancer with specialized treatments. The center has a radiation oncology department that coordinates with other team members to treat cancer patients along with in-depth continual research.
The Sheba Pancreatic Cancer Center (SPCC)
The center believes in providing tailor-made treatment to treat pancreatic cancer as each individual has a different case. The center also focuses on research about emerging therapies and treatments.
The Ella Lemelbaum Institute for Immuno-Oncology
The center is known for developing novel treatments such as cCAM drug. The first center to offer the tumor-infiltrating lymphocytes (TIL) protocol.
Safra Children's Hospital:
The center has Safra Children's Hospital which is a pioneer in pediatric hemato-oncology and known for delivering successful bone marrow transplants. the tumor-infiltrating lymphocytes (TIL) protocol 
Heart And Circulation Institute:
The institute has the Elia and Zohara Davidai arrhythmia center that specializes in providing treatment options tailored as per the patient's requirements. The center also has outpatient clinics treating a wide array of cardiac conditions including a pacemaker clinic, a specialized clinic for treating high-risk pregnancies. 
The Cardiology Unit:
Israel's largest unit with five state-of-the-art catheterization laboratories. The unit performs more than 3,000 catheterization procedures annually.
Gynecology & Maternity Center:
The center is specialized to cater women's healthcare needs. The center has qualified gynecologists and obstetricians with decades of experience in diagnosing and treatment expectant mothers. The center also has an individualized Gynecologic-Oncology department supervised by gynecologic oncologists who are specialists in treating a variety of gynecologic cancers. The Reproductive and Endocrinology unit offers fertility procedures such as IVF, etc.
Rehabilitation Center
At Sheba Medical Center, there is a Rehabilitation center that specializes in providing rehabilitation services in a pyramid of specialties including cardiology, neurology, orthopedic, and psychiatric. The center is well-known for providing multidisciplinary treatment to patients surviving with Parkinson's disease and other neurological conditions. 
International Congenital Heart Center
The center pioneers in treating congenital heart conditions with a variety of surgical procedures including minimally invasive surgery, ventricular septal defect, and atrial septal defect closure. 
Patient Experience And Satisfaction At Sheba Medical Center
Patient satisfaction tells the accurate quality of healthcare services. Patient satisfaction is what the center is known for. In 2016, the Ministry of Healthy announced Sheba's Neonatology Department as the country's best neonatology department for two consecutive years. Sheba medical center even got the opportunity of delivering its medical services to former Israeli President – Shimon Peres. 
Healthcare Staff Makes Sheba Stronger!
Sheba Medical Center Israel wouldn't be where it is today without its people. The center is proud to have the world's brilliant practitioners with impressive credentials and highly experienced in their respective fields. The best part is they work closely as a team and are committed to treating their patients with world-class medicine with a human touch. 
On-going researches take place every day in institutes at Sheba:
The Joseph Sagol Neuroscience Center
Advanced Anticancer therapy drugs developed by Prof. Dror Harats
Prof. Sarah Ferber's Research Group
From humble beginnings, Sheba Medical Center has achieved a position as one of the comprehensive and largest hospitals not in Israel but all over the world which will continue to grow with no resting on research, academics, and most importantly, delivering finest care to its patients. 
Back To Home