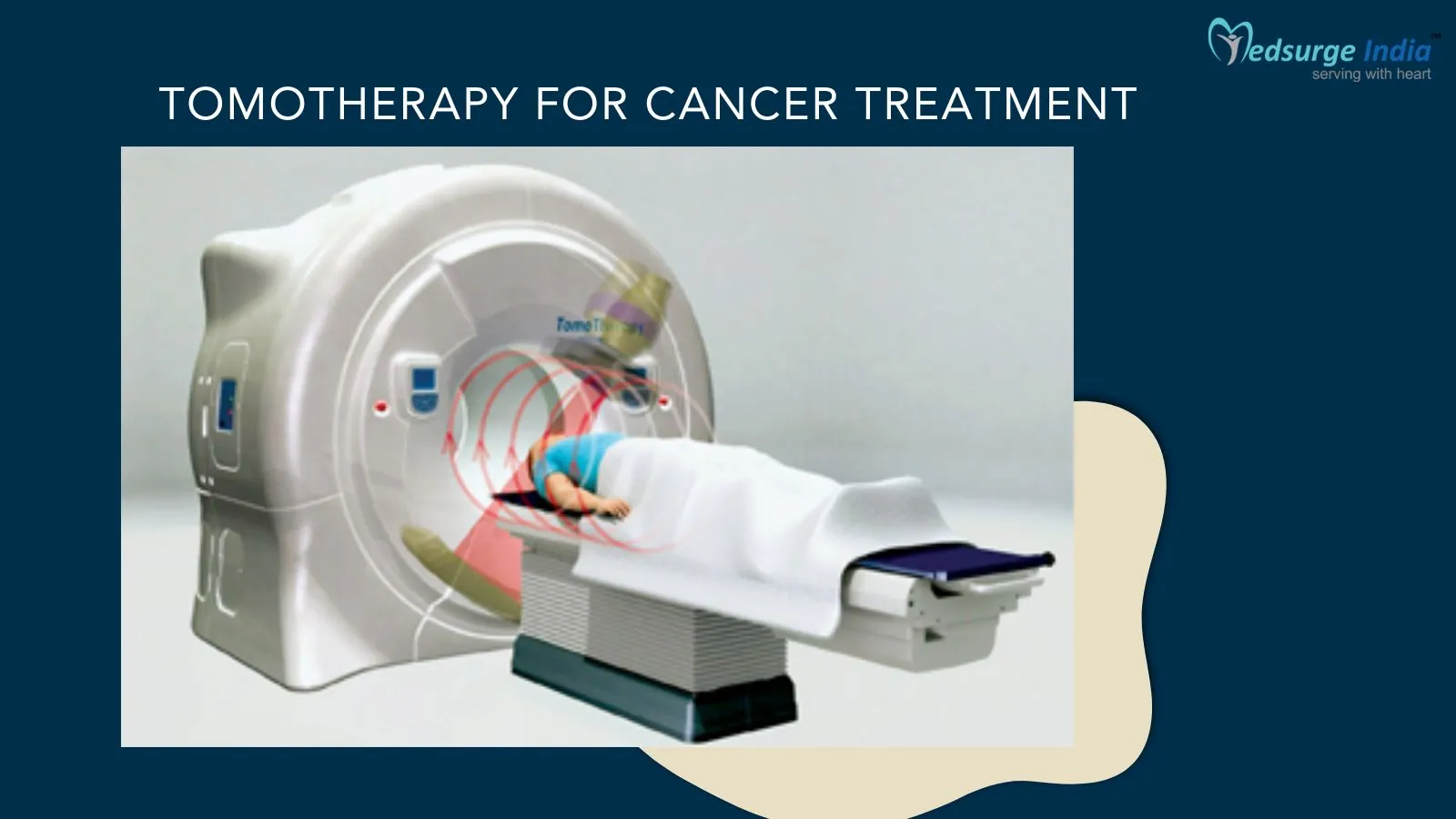 Tomotherapy For Cancer Treatment
Cancer treatment has come a long way in recent years, with advancements in technology paving the way for more effective and targeted therapies. One such groundbreaking technology is Tomotherapy, a cutting-edge treatment option that is revolutionizing radiation therapy for cancer patients.
Tomotherapy combines two essential components: computed tomography (CT) imaging and intensity-modulated radiation therapy (IMRT). This unique combination allows for highly precise and personalized treatment delivery, minimizing damage to healthy tissues while effectively targeting cancerous cells.
Cancers of the prostate, brain, lung, breast, head, and neck are frequently treated with this therapy. When used in conjunction with CT scanning, it is a cutting-edge technology that provides precise and exact treatment, using strong radiation beams to treat tumors that are inoperable.
Tomotherapy Treatment Cost in India is more inexpensive as compared with other states in India. The accomplishment may in part be attributed to the surgeon's expertise and the highly sophisticated medical equipment employed in Indian facilities. In addition to these advantages, a major factor for Tomotherapy Treatment Cost in India is popular in India as well as abroad due to its low cost without lowering clinical standards. 
What is Tomotherapy
Tomotherapy employs imaging technologies that produce images of moving tumors (tumors can migrate somewhat from their original location). Professionals can precisely target malignant cancers with the use of these images, without inflicting any harm to neighboring tissues or organs.
The method is non-intrusive and uses radiation to continuously monitor the area that is being targeted. With IMRT, the radiation waves are broken into tiny beams that attack the tumor by piercing the body from various angles. High-dose radiation beams are effectively delivered to the target area by this procedure.
What is The Difference Between Tomotherapy And Radiotherapy
In the field of cancer treatment, two common modalities are often utilized: tomotherapy and radiotherapy. While both techniques aim to deliver effective radiation therapy to cancer patients, there are distinct differences between the two. Understanding these differences is crucial for medical professionals and patients alike in order to make informed decisions regarding treatment options.
Tomotherapy is an advanced form of intensity-modulated radiation therapy (IMRT) that combines computed tomography (CT) imaging and precise radiation delivery. It allows for targeted radiation to be delivered to the tumor site while minimizing exposure to surrounding healthy tissues. This is achieved through the use of a rotating gantry that delivers radiation from multiple angles, enabling precise dose sculpting. Tomotherapy's ability to conform radiation doses to the tumor shape and size is a significant advantage, particularly for complex cases where tumors are located near critical organs or structures.
On the other hand, radiotherapy is a broader term that encompasses various treatment techniques. It involves the use of high-energy X-rays or other forms of radiation to destroy cancer cells and shrink tumors. Unlike tomotherapy, radiotherapy does not employ rotating gantry technology for delivery. Instead, it typically relies on external beam radiation therapy (EBRT), where radiation is directed at the tumor site from outside the body. This non-invasive approach is suitable for many types of cancer and can be administered using different methods such as linear accelerators or proton therapy.
What Conditions Can Be Treated With Tomotherapy
The following malignancies can be treated with Tomotherapy:
Breast cancer: Because the treatment targets cancer cells only and spares surrounding healthy tissue and organs including the heart and lungs, it is effective for treating breast cancer.
Cancer of the rectum: Radiation is administered directly to the cancer cell, sparing surrounding tissue and the small intestine from harm.
Head and neck cancers: The therapy is extremely helpful for head and neck cancers since it directly targets the tumor cells, even if they are located very close to the spine, salivary gland, or other organs, without significantly harming them.
Pediatric tumors: Because tomotherapy reduces the radiation dose, it is the best radiation therapy for treating pediatric cancer because it is as effective as other radiation treatments.
Gynecological cancer: With therapeutic treatment, cervical and endometrial malignancies can be effectively treated without harming the rectum or bladder.
Lung cancer: The procedure only exposes the lungs to the beam; the heart and spinal cord are unaffected.
Brain tumors: Tomotherapy preserves cognitive abilities while focusing on the brain's tumor cells.
How Much Does Treatment For Tomotherapy Cost in India?
The price of a Tomotherapy Cost in India starts from USD 3400. With that healthcare prices are significantly lower in India than in other nations as well as the price of Tomotherapy in India is relatively low when compared to other states. Furthermore, the quality of the medical services as well as therapy offered there is on par with that of the best hospitals in the world.
Factors That May Impact the Cost of  Tomotherapy in India
The variables that follow may have an impact on the overall cost of tomotherapy in India:
The intended approach of the hospital may influence the Tomotherapy Cost in India.
The individual situation: The severity of the patient's disease and the need for additional modalities will decide the specifics of the treatment plan.
The number of days spent in the hospital receiving tomotherapy in India.
The decision you make about the hospital and lodging will affect your experience with tomotherapy in India.
In addition to being diligently supervised by top medical professionals, Medsurge India offers the finest quality Tomotherapy Cost in India at a competitive price for international patients traveling to India. To access the medical visa application, click here.
What is The Procedure of Tomotherapy Treatment
Step by step procedure of Tomotherapy for cancer:
Patient Preparation:
 The patient is positioned comfortably on the treatment table.
 The treatment area is identified and marked on the patient's body.
 Any necessary immobilization devices, such as masks or cushions, are applied to ensure accurate treatment delivery.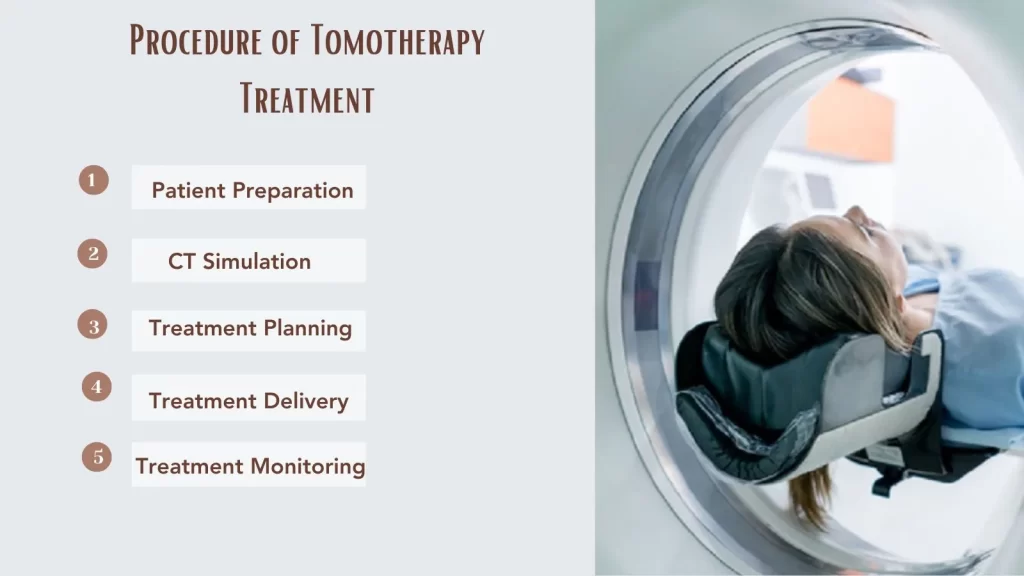 CT Simulation:
A computed tomography (CT) scan is performed to capture detailed images of the treatment area.
The patient remains still while the machine rotates around them, capturing multiple images from different angles.
The CT images are used to create a 3D model of the patient's anatomy, which helps to precisely plan the treatment.
Treatment Planning:
Radiation oncologists, medical physicists, and dosimetrists collaborate to develop a treatment plan tailored to the patient's specific needs.
Using specialized software, they define the target area and determine the optimal radiation dose and beam angles.
Critical structures and organs at risk are also identified to minimize their exposure to radiation.
Treatment Delivery:
The patient is positioned on the tomotherapy machine, ensuring alignment with the previously marked treatment area.
The machine's built-in CT scanner verifies the patient's position before each treatment session.
 The treatment is delivered in small, precisely targeted beams that conform to the shape of the tumor while minimizing radiation exposure to surrounding healthy tissues.
The machine rotates around the patient, delivering radiation from multiple angles to further enhance treatment accuracy.
Throughout the treatment sessions, the patient's vital signs are monitored to ensure their safety and comfort.
Regular check-ups and follow-up appointments are scheduled to assess the treatment's effectiveness and manage any side effects.
Tomotherapy is a sophisticated radiation therapy technique that combines the precision of CT imaging with intensity-modulated radiation therapy (IMRT). By delivering highly precise doses of radiation to the tumor while sparing healthy tissues, tomotherapy offers an effective treatment option for various cancers.
What Are The Benefits of Tomotherapy?
Tomotherapy is a cutting-edge radiation therapy technique that offers several benefits. Following below are the benefits of tomotherapy:
Precise Targeting: Tomotherapy allows for highly precise targeting of cancerous cells, reducing damage to healthy surrounding tissues. This targeted approach maximizes the effectiveness of radiation therapy while minimizing potential side effects.
Image-Guided Radiation Therapy (IGRT): Tomotherapy integrates IGRT, enabling real-time imaging during treatment. This technology ensures accurate delivery of radiation, adapting to any changes in tumor size, shape, or position. As a result, this enhances treatment accuracy and overall success rates.
Adaptive Radiation Therapy (ART): With ART, tomotherapy can adapt the radiation dosage based on changes in tumor response over time. This personalized approach optimizes treatment outcomes by tailoring the radiation dose according to individual patient needs.
Reduced Treatment Time: Tomotherapy combines imaging and treatment delivery in a single machine, streamlining the treatment process. As a result, patients can benefit from shorter treatment sessions, reducing overall time spent at the clinic and improving convenience.
Why Do Individuals Travel for Tomotherapy in India?
India is renowned for having some of the most advanced medical infrastructure and amenities in all of Asia, making it a popular destination for travelers traveling for health-related reasons. The top medical centers for tomotherapy in India use cutting-edge technology to perform various kinds of disease-related operations. Additionally, contrasted to other countries or regions of the world, the nation has significantly reduced the expense of Tomotherapy Cost in India. A foreign patient may pay between 50% and 60% less for a Tomotherapy  in India.
Utilizing extensive preoperative evaluations, minimally invasive surgical techniques, and postoperative rehabilitation programs, the leading hospitals that offer tomotherapy in India give comprehensive, suitable care. At these healthcare facilities, patients can count on receiving individualized care, attentive service, and gracious treatment. The Joint Commission International (JCI) and the National Accreditation Board for Hospitals and Healthcare Providers (NABH), two renowned international organizations, have provided accreditation to the hospitals.
How to Choose a Hospital for Tomotherapy in India?
Hospitals that perform Tomotherapy in India are well-known for their patient care and generosity. Some of India's best radiologist who are authorities in their fields work at these facilities. Choosing a reputable hospital for treatment as a foreign patient could be difficult. It is a significant decision that must be made while bearing various considerations in mind, such as:
Quality certificates and accreditations
Hospital and transportation facility location
Team of doctors and surgeons
Advanced diagnostic and therapeutic equipment
International patient assistance
How can Medsurge India Help? 
Medsurge India is a prestigious support system for patients looking for doctors, hospitals, and specialized treatments. We'll find the most suitable medical options for you. Following your medical issues, our team will give you a list of certified, reputable, and trusted doctors and hospitals. Apart from that, we offer a treatment strategy that fits your budget and also, we assist patients with obtaining travel authorizations, medical visas, and a multitude of other things.
Back To Home