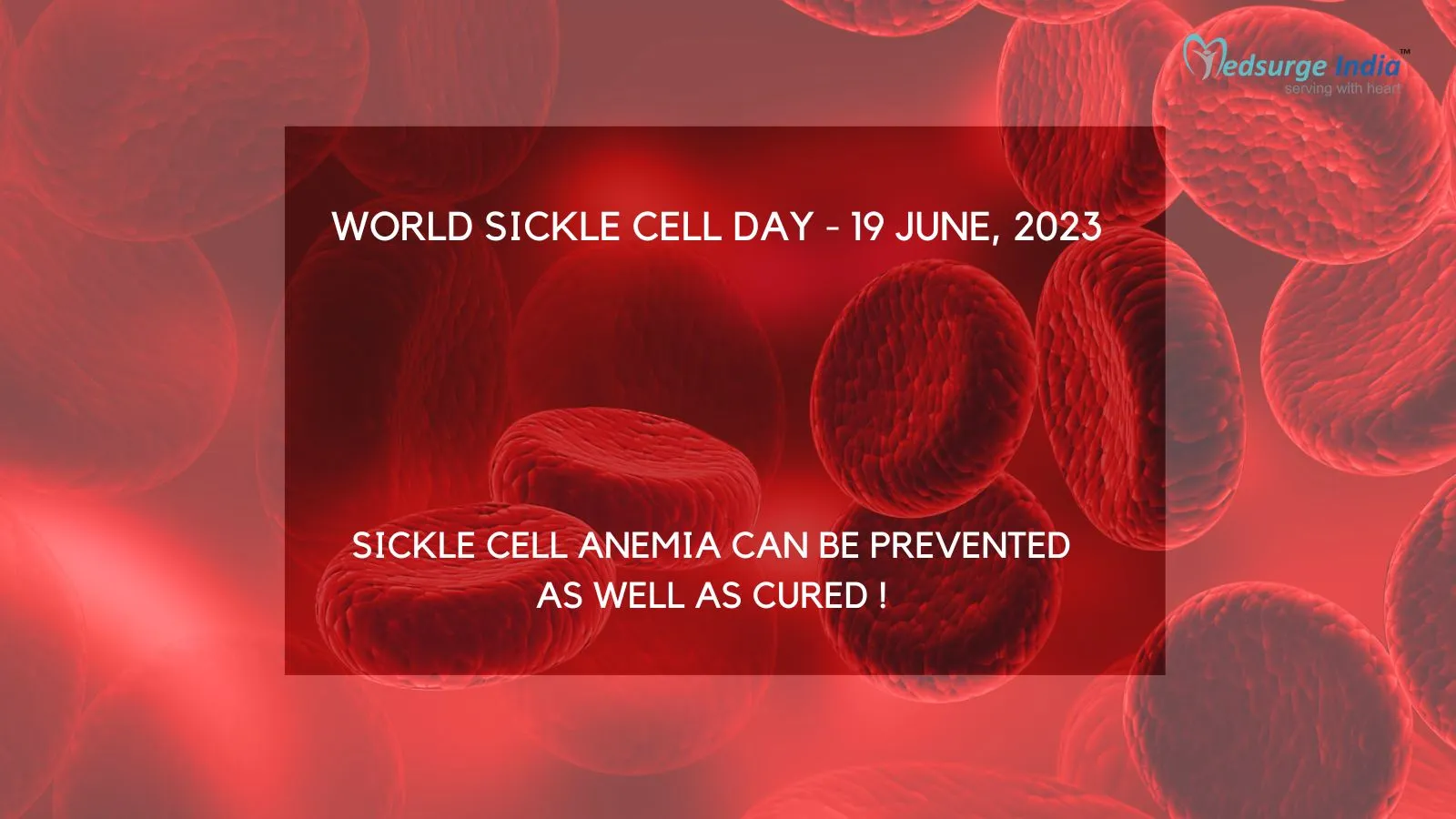 World Sickle Cell Day – 19th June, 2023
A Note of Encouragement on World Sickle Cell Day
Every year on June 19, countries around the world celebrate World Sickle Cell Day, which began as a United Nations resolution in 2008. The purpose of this day is to Raise Awareness of Sickle Cell Anemia as a public health issue and spread awareness about this genetic disorder. The blood condition, formerly known as Sickle Cell Anemia, affects millions of individuals worldwide, including adults and children. It is potentially fatal and, according to the World Health Organisation (WHO), is one of the leading causes of premature death among children under the age of five in different African countries.
What is Sickle Cell Disease
Sickle cell Anemia is a type of Sickle Cell Disease, which is an inherited blood disorder. Sickle cell anemia changes your red blood cells from round, flexible discs to rigid, sticky sickled cells. Sickled cells prevent red blood cells from fulfilling their role of carrying oxygen throughout the body. Sickled cells also have a shorter lifespan than normal red blood cells. As a result, you don't have enough healthy red blood cells and develop anemia, which is how sickle cell anemia gets its name.
Previously, babies born with Sickle Cell Anemia rarely lived to adolescence. Because of early detection and innovative treatments, approximately half of all persons with sickle cell anemia now live into their 50s. 
Babies with Sickle Cell Anemia may not exhibit symptoms for several months after birth. Symptoms of anemia include too much fatigue or fussiness, extremely swollen hands and feet, and jaundice. Babies may also suffer spleen damage, which weakens their immune system and increases their susceptibility to bacterial infections. People with sickle cell anemia may develop various and progressively more serious medical conditions as they age, which occur when organ tissues do not receive enough oxygen. People with sickle cell anemia are more likely to have a stroke, as well as lung, kidney, spleen, and liver damage.
Prevention of Sickle Cell Anemia
If you do not have sickle cell anemia but have sickle cell trait, you may have inherited one sickle cell gene from your family. If you carry the gene, your chances of having a child with the disease or sickle cell trait increase. A child must inherit two sickle cell gene mutations, one from each parent, in order to be born with sickle cell anemia. Genetic counselors might help you in evaluating your family history, navigating your blood test findings, and making informed decisions about family planning.
You can break the Sickle Cell Cycle in your family in two ways, which will help in Prevention of Sickle Cell Disease:
Prenatal Testing: Prenatal testing can be done during pregnancy to find out whether a baby will have SCD, SCT, or neither. Prenatal diagnostics such as Chorionic Villus Sampling (CVS) and amniocentesis are frequently performed to determine if the baby will have the disease or carry the characteristic. These tests are normally performed after the second month of pregnancy. A woman with SCD can have a safe pregnancy with early prenatal care as well as counseling and careful monitoring throughout the pregnancy. The procedure has been simplified by both obstetric and laboratory techniques and can be carried out with safety in India, early enough to allow elective termination of pregnancy also.
Considering Preimplantation Genetic Diagnosis (PGD) In Vitro Fertilization (IVF): PGD is a laborat ory procedure performed in combination with IVF to prevent chances of passing on blood inherited diseases. Through PGD IVF procedure sickle cell or sickle cell trait parents can prevent SS or AS genotype child and can have a healthy AA genotype child. In the procedure, embryos are comprehensively evaluated with the goal of selecting disease-free embryos for transfer in the mother's womb.
Families may also employ PGD when a family member needs to conceive a baby who is HLA matched stem cells donor sibling for Full matched Bone Marrow Transplant of elder sibling suffering from sickle cell anemia. It is called as PGD IVF with HLA matched sibling donor, which can give a normal AA child as well as matching donor to cure sickle cell of the elder sibling by BMT.
On this day of World Sickle Cell Day, we want to spread more and more awareness that SICKLE CELL ANEMIA CAN BE PREVENTED, we can together BREAK THE SICKLE CYCLE! 
In India we are receiving patients from across the globe for advanced Prenatal Diagnosis, PGD IVF and PGD IVF with HLA matched sibling donor procedures. 
How to Treat Sickle Cell Anemia
Many factors influence Sickle Cell Disease Treatment, including your child's age and overall health, as well as the severity of the disease. 
Transfusions of Blood for Sickle Cell Disease
If your child is in a sickle cell crisis, a blood transfusion may be required to remove sickle cells and replace them with healthy red blood cells. Repeated transfusions may help in the prevention of serious consequences such as stroke. The treatment takes one to four hours and is performed while your child is awake, either an IV line or through your child's port. But it is only a temporary treatment and have to be repeated as and when required.
BONE MARROW TRANSPLANT THE ONLY PERMANENT CURE!
A blood or bone marrow transplant (BMT) is the ONLY KNOWN CURE as on today for Sickle cell anemia. Sickle cell anemia bone marrow transplant in India is a therapy that uses an intravenous (IV) infusion to replace damaging cells with healthy blood-forming cells from a donor. This treatment is also known as a stem cell transplant. 
For Sickle Cell Anemia patients Allogenic Bone Marrow Transplant is performed, which involves the use of stem cells from a donor whose human leukocyte antigens (HLA) match the patients, partially or fully. Firstly Human Leukocyte Antigen (HLA) typing test of patient, siblings and parents are required, in order to identify the right donor.
There are 3 types of Bone Marrow Transplant.
10/10 HLA Matching Sibling bone marrow donor which is called as Full Matched Sibling Donor Bone Marrow Transplant.
Father/ mother/ sibling is considered as half match donor if there is no matching donor available which is called Half matched Transplant or Haplo identical Transplant.
If matching donor is not found, we can search for HLA Unrelated (Unknown) full match in the World wide Bone Marrow registries, although the chances of getting match is very low. But if match found it can be considered where there is no matching sibling donor, we need to extract Bone Marrow from the donor who can be anywhere in the world and get it imported to the Transplant centre in India. 
Our specialized Team of Doctors are successfully performing Bone Marrow/ Stem Cell Transplants for Sickle Cell Anemia patients of all ages from across the globe including India, Nigeria, Cameroon, Kenya, Uganda, Zambia, South Sudan, Angola, Tanzania, Iraq, Afghanistan, Pakistan, Uzbekistan, etc. since many years now. 
Click Here to Watch Success Stories & Testimonials of patients from across the Globe who underwent BMT: https://www.youtube.com/playlist?list=PL5VsHMSYICzyiAG3DTE65AFr1AMCENY0Z
Suggestion
World Sickle Cell Day's global theme is "Building and Strengthening Global Sickle Cell Communities, Formalising Newborn Screening, and Knowing Your Sickle Cell Disease Status." 
This subject highlights a request to recognise the first step: knowing the genotype in sickle cell newborns and adults. Parents around the world generally find their genotype status of susceptibility to sickle cell disease only after having children.
Parents are informed at birth if their child has sickle cell disease or sickle trait. If the newborn has sickle cell disease, the diagnostic and treatment options are explained to the parents. If the newborn possesses the trait, the parents are informed, but if the parents are unable to understand the consequences of the trait, they disregard the information. This knowledge emphasizes the need for sickle cell awareness because the newborn with the sickle trait is a carrier, which is how the disease spreads.
To know more about the Prevention and Treatment for Sickle Cell Disease, do visit our MedsurgeIndia.com
Back To Home