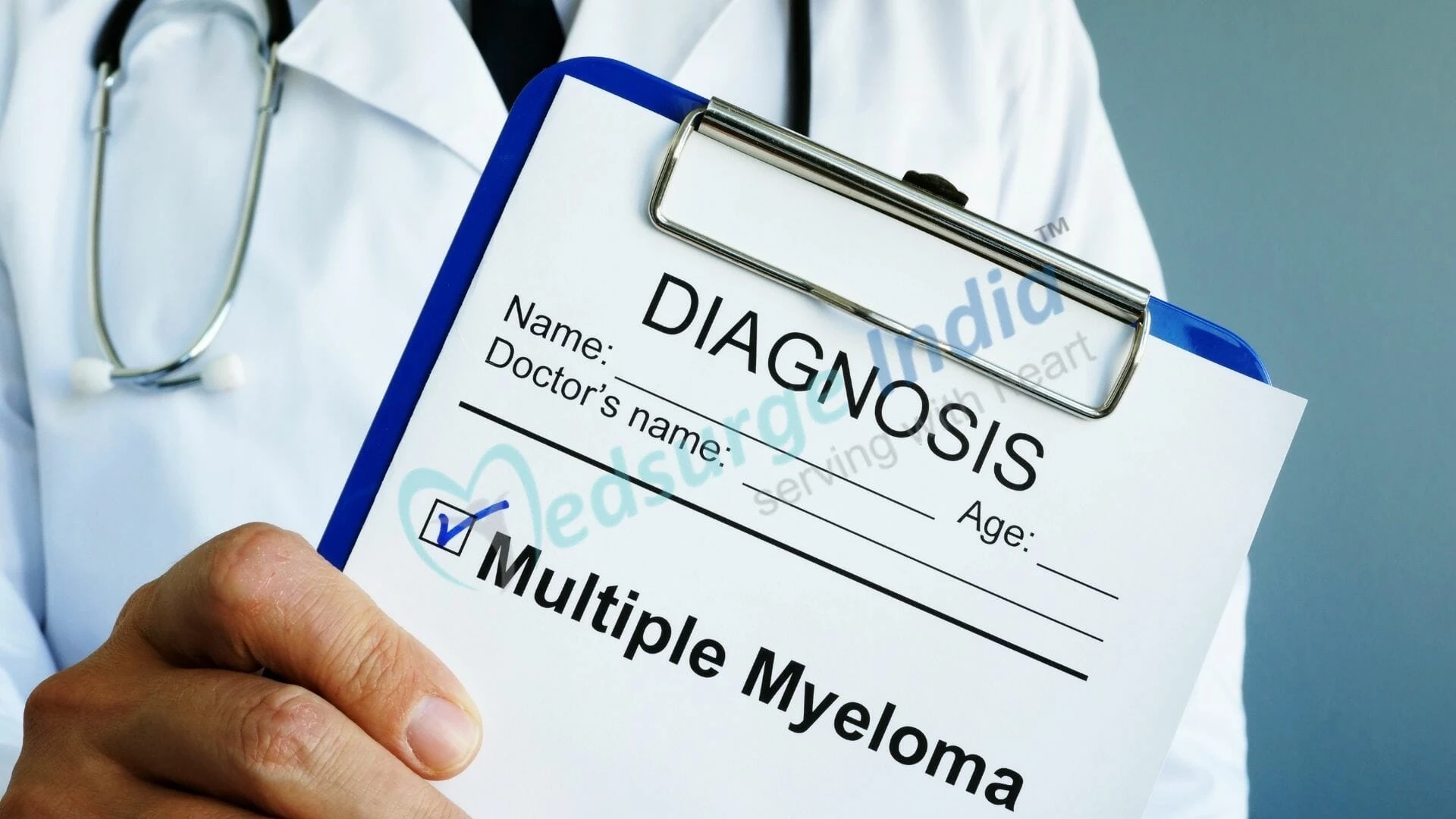 Role of Bone Marrow Transplant in Multiple Myeloma Treatment
Blood is a body fluid that keeps us alive. It carries oxygen and essential nutrients to all parts of the body for proper functioning. It transfers carbon dioxide and waste materials to the kidneys through the lungs and digestive system to get rid of waste from the body. Blood is made up of blood cells and they are oxygen-carrying red blood cells (RBCs), disease-fighting white blood cells (WBCs), and blood-clotting platelets. 
Now, coming onto plasma cells, a type of white blood cell helps the immune system to make antibodies in defending the body against foreign attacks. 
Unfortunately, if there is low production of blood cells, it can lead to various health conditions. 
What is Multiple Myeloma?
Multiple myeloma is a type of blood cancer that occurs in the plasma cells in which accumulated cancerous plasma cells crowd out the healthy plasma cells from the bone marrow. These cancerous cells then produce abnormal proteins causing various health complications. 
What are the observable signs and symptoms of Multiple Myeloma?
Signs and symptoms of multiple myeloma may vary from individual to individual and they may include:
Bone disorders
Severe pain in the chest or spine
Parched
Unexplained weight loss
Loss of appetite
Weakness in your legs
Constipation
Nausea
Confusion
If you experience any of the above-mentioned multiple myeloma symptoms, seek medical advice as soon as possible. 
What is the cause of Multiple Myeloma?
The main cause of multiple myeloma is still unknown. However, studies show that multiple myeloma begins as a benign condition called monoclonal gammopathy of undetermined significance (MGUS).
If there is a presence of M proteins released by abnormal plasma cells in your blood, it confirms the diagnosis of MGUS like multiple myeloma. While the levels of M proteins are lower in a condition like MGUS, it is unlikely higher in multiple myeloma. 
Nevertheless, MGUS and multiple myeloma are highly related. If you have MGUS, then there are higher chances of multiple myeloma as well. 
Risk Factors Involved with Multiple Myeloma
Following is a list of factors that may increase the risk of multiple myeloma:
Age: Multiple Myeloma mostly hits people in their mid-60s.

Family History: If you have a family history of multiple myeloma, you are at higher risk of getting diagnosed with multiple myeloma. Therefore, multiple myeloma is hereditary. Still, there are some cases where most patients do not have affected family members. So, this accounts for a lesser number of cases.
Gender: Studies show that men are more prone to developing multiple myeloma than women.
History of monoclonal gammopathy of undetermined significance (MGUS): MGUS is the beginning of multiple myeloma. Hence, if you have MGUS, then you are likely to get diagnosed with multiple myeloma as well. 
What are the associated complications of Multiple Myeloma?
Multiple myeloma is a progressive hematologic disease that may lead to other complications as well and they are:
Hematologic complications, for instance, bleeding disorders, bone marrow failure, low count of red blood cells, anemia.
Infections
Bone complications, such as spinal cord compression
Several neurologic complications
Renal insufficiency includes reduced kidney function or maybe kidney failure.
Recommended Video – Bone Marrow Transplant In India | Sickle Cell Anemia Treatment In India
What are the options for Multiple Myeloma Treatment in India?
After confirming the diagnosis through various diagnostic tests and procedures including blood tests, urine tests, bone marrow biopsy, and imaging tests, doctors also evaluate the stage and severity of the disease. Once the confirmation is done, doctors proceed towards choosing appropriate treatment options which could include as follows:
Targeted Therapy: Targeted drug treatments precisely identify and target particular weaknesses within the cancerous cells to kill them.
Chemotherapy: This treatment uses anti-cancer drugs to kill cancerous cells. Doctors usually perform this treatment in combination with surgical procedures. The procedure involves high doses of chemotherapy drugs to destroy cancerous cells. 
Helpful- Chemotherapy FAQ's
Radiation Therapy: In this procedure, radiologists use highly energized beams from X-rays or protons to destroy cancerous cells. It is used for shrinking tumors in a particular area causing pain or bone disorders.
Immunotherapy: Immunotherapy uses substances to improve the immune system to fight against cancer. It boosts the body's natural defenses to identify and kill cancer cells.
Bone Marrow Transplant: It is a surgical procedure that replaces diseased bone marrow with a healthy one from a donor. Before the actual procedure, the doctor extracts the remaining healthy blood-forming cells from the blood and performs chemotherapy to destroy the diseased ones.
Afterward, the doctor infuses the healthy cells into the blood and then they travel towards the bones to reform the bone marrow. 
The cost of bone marrow transplants in India starts from 15,000 USD and goes up to 35,000 USD depending on the type of transplant – autologous or allogeneic. 
Helpful-Peripheral Blood Stem Cell Donation Process Explained
What is the survival rate of Multiple Myeloma Treatment in India?
The survival rate of multiple myeloma treatments depends on the severity and stage when the disease is diagnosed, age, and the patient's overall health condition.
Recent studies show the following survival rate from the time multiple myeloma is diagnosed:
| | |
| --- | --- |
| Stage | Time Interval |
| Stage I | Approximately 5 years |
| Stage II | Approximately 3-4 years |
| Stage III | Approximately 2-2.5 years |
Note: These survival rates are only estimates. It may vary from person to person. The exact time period totally depends on how well you respond to the treatment. 
How long does treatment last for Multiple Myeloma?
Doctors usually treat multiple myeloma with bone-modifying drugs that help strengthen bones, reduce pain in bones and the risk of fractures. 
There are two types of bone-modifying drugs available to treat bone loss out of multiple myeloma and they are Bisphosphonates and Denosumab. 
Multiple myeloma treatment duration is suggested for up to two years. After two years, doctors may stop the treatment if it is not required. Unfortunately, if cancer recurs causing various bone problems, then the treatment starts again. Discuss with your medical team about starting and stopping the treatment. 
What is the estimated cost of Multiple Myeloma Treatment In India?
The treatment for multiple myeloma mainly includes a bone marrow transplant that has a maximum contribution in treatment cost. The cost of multiple myeloma treatments in India ranges between 11,000 USD to 13,000 USD. The actual cost depends on the severity and stage of the disease, lab tests and diagnostic costs, accommodation, type of treatment chosen, type of BMT (if required), type of hospital, number of chemotherapy or radiotherapy sessions, and follow-up visits.
Furthermore, if the patient is traveling from another city or country, the cost of traveling, tickets, visa fee are also included.
Which are the best hospitals for Multiple Myeloma treatment in India?
There are numerous internationally accredited hospitals in India that are well-known for treatments in different medical departments with higher survival rates. Some of the best hospitals known for bone marrow transplants in India are:
Fortis Hospital, Gurgaon: Headed by Dr. Ritu Mittal Garg, a well-experienced ENT surgeon, the JCI and NABH accredited tertiary care hospital is entitled as 'Mecca of Healthcare' for the Asia Pacific Region. The hospital is known to have performed the highest number of bone marrow transplants. 
Fortis Hospital, Bangalore: Since the inception of the hospital in 2006, the 480-bedded multi-specialty hospital has been honored with several awards and recognitions. The hospital is well-known for its healthcare services meeting international standards backed up by over 150 medical consultants and more than 1,500 well-trained paramedical staff.
MIOT (Madras Institute of Orthopedics & Traumatology) International, Chennai: Headed by Mrs. Mallika Mohandas, the NABH and NABL accredited hospital has bagged various awards to date since its inception in 1999. It is the first hospital in India to have a 740 HD CT scan with dual-energy imaging. 
The hospital performed its first T- Replete Haplo Identical Bone Marrow Transplant in India in 2013.
HCG Cancer Centre, Bangalore: The NABH, NABL, DSIR, FDA, CAP, and ISO: 9001 accredited hospital is the first hospital to win the Golden Peacock Award. Headed by Dr. BS Ajai Kumar, Asia's first bloodless Bone Marrow Transplant was performed at this hospital. The hospital has been awarded many awards and recognitions. 
Best Doctors for Multiple Myeloma Treatment in India
India has skillful medical professionals who have attained educational qualifications, fellowships from well-recognized, prestigious institutions across the world. 
Dr. Vikas Dua: With more than two decades of experience, Dr. Vikas Dua holds expertise in Benign Paediatric hematology, Haemato-oncology as well as matched sibling and unrelated and Paediatric haploidentical transplants. He specializes in bone marrow transplantation in adults and pediatrics.
Dr. Deenadayalan: Dr. Deenadayalan is one of the best Medical Oncologists currently associated with Global Hospitals, Chennai. He has over a decade of experience and participated in more than 310 autologous and allogeneic BMT procedures. He has attained specialty training in Pediatric Hematology/BMT from Children's Hospital of Pittsburg of UPMC, Pittsburg, USA.
Role of Medsurge India in Planning Multiple Myeloma Treatment in India!
Medsurge India is a reliable platform to plan your medical journey to India. The team begins the process by arranging a video consultation with the right doctor. After the doctor's advice, the team plans an entire hassle-free medical travel arrangement for you.
Recommended Video: Bone Marrow Transplant in India | Tanzania Sickle Cell Anemia Patient Testimonial
Back To Home